Why Choose DFW Fertility Associates, Southlake For Fertility Treatment?
World-Class Fertility Treatment

Conveniently Located in Southlake

DFW Fertility Associates is one of the nation's leading fertility clinics. We have been taking care of couples in the DFW metroplex since 1999. Our mission is to provide each of our patients the attention, time and dedication they deserve. Drs. Ravi Gada and Laura Lawrence are all fellowship trained in Reproductive Endocrinology and Infertility and work in close partnership to the rest of the medical and scientific team that makes up our thriving practice.
Our physicians have been featured in D Magazine, Fort Worth Magazine, Living Magazine, Society Life Magazine, Texas Monthly Magazine. They have also been broadcasted on CW33 News and WFAA Channel 8 News.
The physicians from DFW Fertility Associates have been awarded:
D Magazines Best Doctors
Fort Worth Magazine Top Docs
Patient's Choice Award
Texas Monthly's Super Docs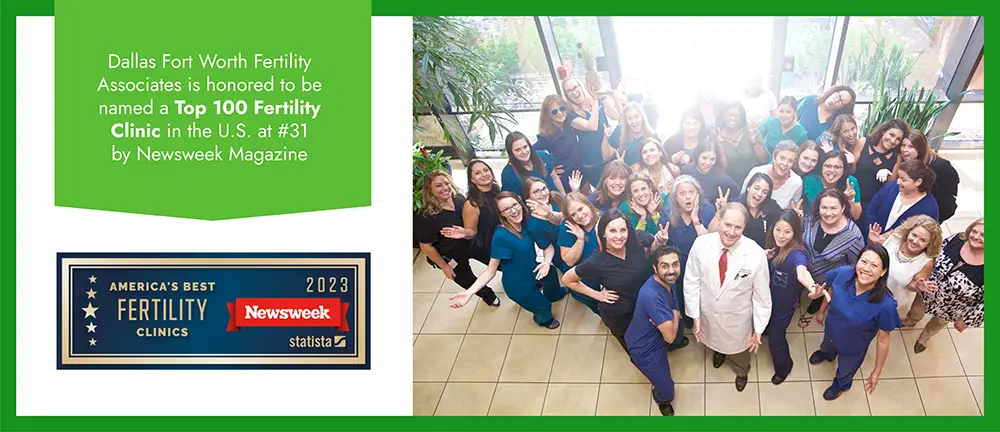 DFW Fertility Associates is proud to be named a Top 100 Fertility Clinic in the United States at #31 by Newsweek Magazine.
The fertility doctors at DFW Fertility Associates have unparalleled education and training.
Our physicians have been trained at Mayo Clinic, Harvard, Duke, UT Southwestern, University of Iowa, University of Texas, Texas Tech University, MIT, and Baylor College of Medicine throughout their medical education. They are now bringing all of their expertise to you in Southlake.
We care about our patients.
What's most important to our physicians is the compassion and care that they deliver to each individual patient. We strive to help patients achieve one thing: taking home a healthy baby. At DFW Fertility Associates, our physicians have maintained very high success rates and hold themselves to the highest standards that their patients deserve.
Jamie and Ben's Fertility Story
Meet Jamie and Ben as they describe how they took charge of their fertility with help from Dr. Gada and Dallas - Fort Worth Fertility Associates.
Neetha and Sanjay's Fertility Plan
Neetha and Sanjay developed a successful fertility plan with the help of Dr. Lawrence and Dallas - Fort Worth Fertility Associates.
Ready to build the family of your dreams?
Schedule your consultation with one of our doctors today.
Schedule Consultation